My Fave Monday...Winner, Winner...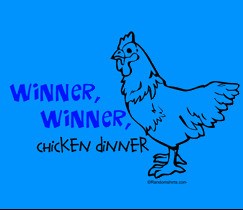 I'm sorry to break it to you but you didn't win a Chicken Dinner.
"The legend tells that years ago every casino in Las Vegas had a three-piece chicken dinner with a potato and a veggie for $1.79. A standard bet back then was $2, hence when you won a bet you had enough for a chicken dinner. !" says
urbandictionary.com
What I really want to say is THANK YOU to the TWO people who commented on last weeks My Fave Monday post. I'm giving away fifty sheets of Paper Trey Ink Card stock to both followers of my blog because it just seems silly not too with odds like that!
So a big Thank You to Miriam Prantner and Cathy!
If you're ever in my neighborhood, which is a good 6 hours or more drive from Las Vegas, I would gladly cook you a chicken dinner, but for now, I've notified you both of your winnings by email and look forward to sending out your free and
My Fave Card stock!